We do the
right things
in the
right order
to maximize your chances of online success.It is very important that you do the right things in the right order if you want to have high search engine rankings and quality visitor traffic. It is not enough to submit your web site to search engines and to wait for the results.
Search engines use a variety of factors to rank web sites. You have to work on all factors if you want to achieve good results. Search Tempo helps you to get things done as quickly as possible:
1. Find the right keywords for your business
The right keywords or search phrases are not always obvious. Using sophisticated software tools and industry experience, Search Tempo analyses the market, your products and your competitors to find the right keywords that will work best for your web site. It is very important that you target the right keywords before you start with your search engine optimisation work.
2. Optimise your web pages for these keywords
Web page optimisation is the process of editing the web page text to get the correct html structure and ratio of key words to other content.
There are billions of web pages on the Internet. It's obvious that not all of them can be listed in the top 10 results on search engines. Search engines only list web sites that they find relevant to a special topic. You must make sure that your web site is such a site.
Only a few web surfers look further than the first or second result page of a search engine. 75% of searchers never look further than page one.
Obviously, search engine optimisation is crucial if you want to be successful with your web site. SearchTempo does the hard work for you and makes search engine optimisation as painless as possible.
3. Resubmit your web pages to all important search engines and directories
After optimising your web site for several keywords, Search Tempo will resubmit your web site to the major and minor, search engines and Internet directories. Search Tempo employs some special techniques to help your web site get spidered and indexed faster – usually in less than 2 weeks.
4. Get links from other web sites and make sure that these links contain your keywords
Links from other web sites are extremely important if you want to have high search engine rankings. Search Tempo has a special system for getting your site high quality and relevant inbound links.
This system includes article marketing to get one-way links, directory submissions, online publicity, and automatic link exchanges with relevant, but non-competitive, web sites.
Your web site must have good incoming links to get high search engine rankings. High search engine rankings are always the result of optimised web pages, good incoming links and outgoing links to quality content. To check how many links your web site currently has, use this tool. While you are there, compare your results to your top-ranking competitors.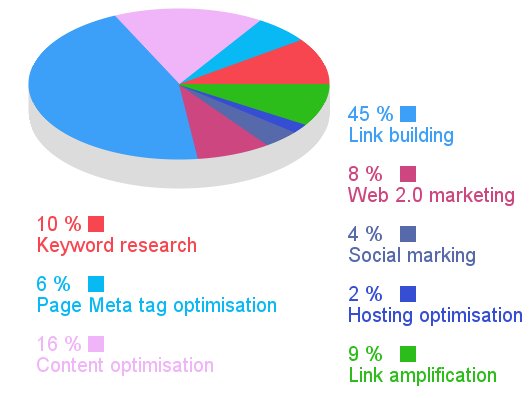 5. Amplify your new links
As well as getting links to the important pages on your web site, we also get links to the links. This process we call link amplification. Link amplification is a new technique that makes a huge difference to your search engine results.
6. Add other "special" content that the search engines love
Search Tempo has discovered that other types of web page content is also highly regarded by search engines. Due to competitive reasons we can't reveal that content, but we can certainly implement it for you to help you get better search engine results. Some content allows your web pages to be spidered and indexed within 6 minutes. Search Tempo can help you create that content and submit it to the search engines.

7. [Optional] Create Google Adwords Campaigns
In highly competitive markets and as a tactic to use while you are waiting for your natural SEO to kick in, we recommend that clients consider Google Adwords campaigns. Google Adwords is where you pay a cost-per-click for specially placed ads near Google search engine results. The benefits of Google Adwords are:
Very fast results – be listed near Google search engine results within 30 minutes
Bulk key word targeting – you can link your ads to thousands of different key words
Geographic targeting – the option of only showing ads to web searchers in specific locations
Time of day targeting – the option of only showing ads to web searchers at certain times of day or days of the week
Advertisement copy testing – Google allows you to create hundreds of different advertisements for the same campaign. It also keeps statistics on which ads pull the most responses. You can even program Google to show the most popular ads more often.
Campaign cost control – you decide how much your ad will cost if someone clicks through and how much you can spend each day. For example, you could decide to pay up to $1 per click with a maximum spend of $10 per day.
8. Monitor and Tweak your Web Site
To ensure your continuing success, Search Tempo will perform a free analysis of your web site after 3 months and suggest any changes to your web site. These changes will not be implemented unless you approve.
Get found on the Internet, call Search Tempo today on 3166 9622.